No results were found for the filtering!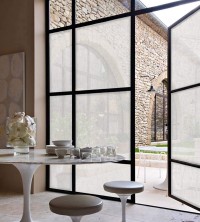 SQUID textile fabric film
Indoor assembly
self-adhesive
Squid is a textile, transparent and self-adhesive window covering that protects you from privacy and sunlight during the day. With its minimalist design, the patented product creates a natural feel-good atmosphere and discreetly matches any room colour thanks to its 5 colour variations.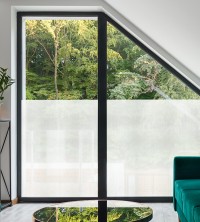 MaZe textile fabric film
Indoor assembly
self-adhesive
MaZe is the inexpensive alternative to SQUID®. The quality is similar to the original and MaZe even has a slightly higher adhesive strength. Available in the three basic colours Pearl, Desert and Smoke, it stands out due to the possibility of plotting different 2D geometries. For example, with rounded corners or our unique edge finishing.
Easy to apply privacy protection
Also known as "adhesive textile", the privacy films conveniently replace old curtains or drapes and ensure a more pleasant room climate. They consist of a semi-transparent polyester fabric that can be applied very quickly and conveniently to glass surfaces. Even difficult shapes can be cut out of MaZe with a plotter. In addition, all adhesive textile films can be printed.
Textile window films: Elegance and functionality in perfect harmony
Textile fabric window films combine aesthetic design with functional versatility and offer an appealing solution for window design and light control. These special films complement your interior design while protecting against prying eyes and gently filtering incoming light.
Natural elegance: The use of textile fabrics gives window films a warm and natural aesthetic that blends seamlessly into a variety of interior designs. The fine fabric offers a subtle texture and creates a pleasant atmosphere while providing a degree of privacy.
Light control: Textile fabric window films are particularly effective at controlling incoming light. They allow for a gentle diffusion of light, bathing the room in a pleasant, subdued light. This can help minimise glare and create a pleasant working or living atmosphere.
Privacypreservation: One of the main functions of textile fabric window films is to provide privacy without sacrificing natural daylight. The fine fabrics block prying eyes from outside, while still allowing you to look out.
Variety of styles: From subtle to eye-catching designs, textile fabric window films offer a wide range of options to suit your personal style. You can choose between different fabric textures and colours to transform your windows into real eye-catchers.
Including sun protection function: In addition to the visual enhancement, a positive side effect is the light sun protection that is achieved on window panes. Windows exposed to the sun during the day no longer heat up the room so much, it remains cooler and the feeling of well-being is increased.
Easy installation and maintenance: The installation of textile fabric window films is usually uncomplicated. You can use self-adhesive versions that are easy to apply to the windows. Most textile fabric films are also easy to care for and can be carefully cleaned with a damp cloth.
Adjustable transparency: Depending on the fabric structure and density of the threads, you can adjust the transparency of the films. From slightly translucent to semi-transparent, this adaptability allows you to control the level of privacy and light penetration.
Summary: Textile fabric window films combine the elegance of fabrics with the practical benefits of window films. With a wide range of designs and features, they offer an elegant way to design your windows, control light and protect privacy. Bring your rooms to life and create a harmonious balance between aesthetics and functionality with textile fabric window films.
Subcategories of Privacy films: