No results were found for the filtering!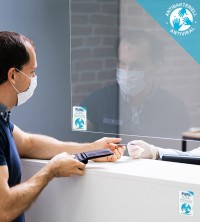 Antibacterial film, Hexis PUREZONE®, clear transparent
Indoor assembly
self-adhesive
Thanks to its crystal-clear, inconspicuous and almost invisible appearance, this antiviral hygiene film is particularly suitable for transparent window panes or plastic glass through which you need to be able to see further. At the same time, the glass is equipped with effective antimicrobial protection.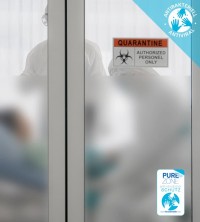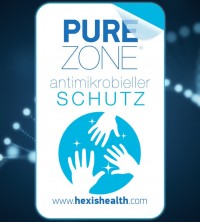 Sticker Hexis PUREZONE® Seal
Indicate the use of an antimicrobial film visibly to your audience with the seal. Available in two sizes, suitable for any application site.
Efficacy of the antimicrobial film
PureZone has been tested for efficacy against viruses in accordance with ISO 21702. Within 60 minutes, virus cultures were reduced by 99.87%, confirming the effect on coronaviruses (HCoV229). Protect yourself, your loved ones, your guests and customers with PureZone.
| Bacteria strain | Bacteria reduction in % | Logarithmic reduction |
| --- | --- | --- |
| Salmonella enterica, subgenus enterica | 99,99 | > 4,6 |
| Listeria monocytogenes | 99,99 | > 4,2 |
| Staphylococcus aureus | 99,99 | > 4,1 |
| Escherichia coil | 99,99 | > 4,5 |
| MRSA | 99,99 | > 3,5 |
Note: The log reductions obtained when using Ag ions may vary depending on the technique, incubation time and medium used.
The PureZone is available in glossy or matt privacy film. It can be fully integrated into the cleaning process (no special cleaners) and can also be retrofitted. With the PureZone seal you show - the proven plus in protection and hygiene.
Use of the PureZone antiviral film explained in the video
Advantages of this antibacterial film
easy to install and extremely durable
the surface is very fine and also scratch-resistant
it does not shrink and does not wrinkle even after years of use
the film is dirt-repellent and easy to clean
easy to clean with standard glass cleaners
film can be removed without leaving any residue
HEXIS PUREZONE® - Protects around the clock
HEXIS PURZONE® antimicrobial films provide continuous preventive protection against bacteria and corona viruses around the clock. A powerful product that is safe for skin contact. The reactive silver ions contained in the antimicrobial film quickly inhibit bacteria and coronaviruses, preventing them from multiplying between cleaning periods. The antibacterial film provides protection day after day, 24 hours a day.
Anywhere & Anytime aesthetic protection
HEXIS PUREZONE® antiviral products have received ISO 21702 certification for their effectiveness against coronaviruses. Our customers have been applying this hygienic protection film to surfaces in daily use for many years. As a result, they are protected during daily as well as occasional use. From door handles to touch pads, from the recovery room of a hospital, kindergartens, art practices to the amusement park, etc., the application possibilities of this hygiene film are endless.
Subcategories of Protective films: