No results were found for the filtering!
Minimise the risk of injury with high-quality splinter protection film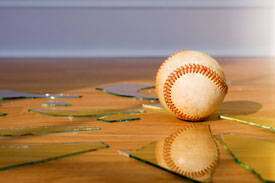 Broken or only cracked window panes have a high risk of injury. The extremely sharp splinters can be caused by accidents, material defects or break-ins. Our shatter protection films address this problem and offer effective protection because the glass panes can break but cannot be completely destroyed and fall apart.
The specially reinforced polyester structure of the safety films with powerful adhesive holds the pane together. Our shatter protection film is often used in kindergartens, sports halls, dance studios, mirrors and on all glass surfaces in the home. The films can be retrofitted in all places where shatter protection has been lacking or is required by law. Retrofitted glass meets the requirements of GUV-SE 8027 (previously GUV 56.3).
Protecting production facilities from glass splinters
Our shatter protection films are often used in the food industry to protect production lines from glass breakage. It offers a high level of protection against indentations, impacts or blows; the risk of injury and damage from glass splinters is significantly reduced. We have a corresponding hygiene certificate.
Splinter protection film or safety film for your windows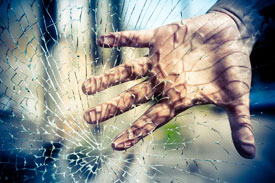 The shatter protection films are completely invisible on windows thanks to their crystal clear and transparent transparency. They reinforce the window glass with a protective layer, which can be mounted inside or outside. Usually, a safety film is applied to the side facing away from the impact.
If, on the other hand, you want to protect interior glass doors on both sides, a film on both sides is unavoidable. In most cases, the pane remains in the window frame during installation to minimise the work involved and the risk of injury during installation. Perfectionists can increase the shatter protection by pushing the film under the edge of the window.
Cost-effective alternative to laminated safety glass
The glass industry offers laminated safety glass with similar protection. Compared to shatter protection film, these are considerably more expensive to retrofit, as additional costs are incurred for replacing and disposing of the old glass pane. The conversion measures also cause dirt, which can be avoided. Our cut-to-size films can be applied to any pane of glass in a short time and without creating any dirt.
Maximum protection with enormous security film
Our 300 µm thick burglary protection film offers the greatest possible protection. This protective film passes resistance class P2A according to DIN EN 356 and thus fulfils even high security requirements. If the rubber seal is removed before installation, the burglary protection can be further increased by laying the film under the glazing beads. Burglars will not be able to get through this resistant film even after 15 minutes and will be irritated and abandon their plan.
All advantages of the safety film and splinter protection film in short form
Effective protection against cuts in case of glass breakage
More safety for glass against blows, impacts or pressure
Cost-effective retrofit solution for any glass
Splinters can no longer contaminate the environment (e.g. in production)
Variants as sun or privacy protection film
Very inexpensive compared to replacement with VSG glass
No dirt when retrofitting
Inconspicuous and crystal clear transparent films
Can be removed without damage or residue if necessary

Conclusion: Advantages of retrofitting windows with safety and splinter protection film
Security film and shatter protection film can be a valuable addition to any window. By retrofitting, you can protect your home and family from unexpected dangers such as break-ins and breakage.
Security film is especially important in preventing burglars from entering the home. The film strengthens the window and makes it harder for burglars to damage or break it.
Shatter protection film can reduce the risk of glass shards if the window is damaged. This is especially important for households with children or pets that may be near windows.
Overall, retrofitting with security and shatter protection film is worthwhile to protect the home and its occupants and provide a higher level of security. It is an easy and cost-effective way to make the home safer.
FAQ's about splinter protection films
What are the benefits of splinter protection films?
Should a pane break, the splinter protection film mounted on it effectively prevents you from cutting yourself on the shattered glass. The glass is held together by the film, open breakage points are not accessible. The danger of a cut is averted.
Special burglary protection films are available to effectively protect your window panes from break-ins. These protective films are particularly resistant and meet the corresponding DIN standard.
Where are splinter protection films used?
Wherever there is a risk of glass breakage and the danger of injury must be excluded. For example, at home or in kindergartens on mirrors as well as glass doors or in the food industry where legal regulations prevail.
How do I apply splinter protection film?
Self-adhesive splinter protection films have a transparent adhesive applied to the back, just like a sticker. On top of this is a protective film that must first be removed. Now the adhesive side and the pane are sprayed with water. Then the film is placed on the glass and the water is wiped out from under the film.
How do I remove splinter protection film from the window?
To remove a splinter protection film, grasp it at one corner and then slowly pull it off at a wrong angle. In the case of adhesive films, the film can be warmed by hand with a hair dryer beforehand to dissolve the film adhesive.
Subcategories of Protective films: