Window films at a large selection from Germany ▷ Free custom cutting
Order the right window film in excellent quality for every purpose!
Privacy films

Keep people from looking in with frosted glass film, decorative film or adhesive film that can be mounted without glue. One-sided daytime privacy protection is possible with mirror films and, in some cases, textile fabric films. All Privacy films

Solar control film

Self-adhesive solar control film prevents your rooms from heating up. Simply cool thanks to temperature reduction of up to -9°C. Also available as pure UV protection film or as insulating film / cold protection film.

Protective films

All-round protection with burglary protection film, shatter protection film, scratch protection film, wall protection film or anti-reflective film. Antibacterial films offer protection against viruses and pathogens.

Decoration films

Beautiful privacy protection thanks to glass decoration films. Board films with motifs enable notes to be made on surfaces and colour films encourage design. Flex films create individual textile prints.

Furniture films

Renovate instead of buying new: Renew old furniture in no time with wood-look adhesive film, stone-look adhesive film, plain-coloured furniture film or outdoor furniture film.

Tile Sticker

Modernize old tiles cheaply and quickly with tile foils that are resistant to water and steam. Set new accents for wall or floor tiles.

Surface films

Suitable for any surface: tile film, anti-slip film, board films / whiteboard films, paint protection film, stencil film and sandblasting films.

Craft films

Craft films are ideal for decorating or implementing creative ideas. We offer the films as A4 cut or in every conceivable desired shape.

Accessories

Here you will find the right tools to make every film installation a breeze.
Questions? Chat
with us via WhatsApp!
Your advantages with us
Foil cutting free of charge

Millimetre-precise, computer-controlled cutting to your dimensions.

Free film samples

Assembly tool included

The required installation tool is included with every film order.

Fast delivery

Delivery time approx. 1-4 days
Free shipping from 59€ in GER.

Choice of parcel service

Determine the delivery agent yourself: DHL, GLS, UPS or express delivery.
Are you looking for a window film that solves exactly your problem? In this film market you are in the right place - here you are guaranteed to find a first-class film that is completely tailored to your needs. Among other things, we carry them as sun protection or opaque privacy protection for windows and glass surfaces.
Latest articles
Our skills
Velken-Folientechnik makes up your window film according to your individual wishes: Cut shape, dimensions, design wishes and much more. You will always receive
high-quality window films at favourable prices!
Be it as millimetre-precise cut, yard goods or roll goods. We supply customised window films to private and commercial customers throughout Europe.
Best selling window films
Trusted Shops customer testimonials
Versatile variants of window films with us in the film market
The application possibilities of self-adhesive films are very versatile. Whether as frosted glass film, window picture for glass surfaces or car glass films - every glass film fulfils its special purpose! This can be, for example, decorative eye protection (in the case of window tattoos or glass tattoos). Our range also includes technical films such as mirror films and tinting film as heat protection or anti-glare film for the office.
Window film as sun protection on window panes

Modern architecture makes it possible to install ever more generous, mostly floor-to-ceiling windows. These provide bright, light-flooded rooms. The downside is that conservatories, for example, heat up enormously in the summer and thus greatly impair the indoor climate.
Sun protection films
can effectively protect these rooms from excessive heating. The window films, which are also called heat protection films, reject the sun's energy by a maximum of 86%. This makes the room up to 9°C cooler!
Advantages of sun protection films
Cooler temperatures in summer, the room temperature drops
Air conditioning systems are relieved
UV protection against fading of objects
Glare protection at the workplace, displays remain legible
Adhesive films are usually installed on modern glass surfaces outdoors to avoid the risk of glass breakage. Even window hatches that are strongly exposed to the sun are always covered with a sun protection film for roof windowsas an exterior film. We cut all tinting films to the desired size for any type of glass.
Compare sun protection films
Window film as privacy protection for glass

Don't like prying eyes? With privacy films, glass partition walls, bathroom shower cubicles, glass doors or balcony railing panes become opaque obstacles in no time at all. The window privacy film is available cut to size.
Bright rooms without much loss of light
The decorative window films with stripes are particularly suitable as low-maintenance privacy screens that take away virtually no light and preserve the brightness of your rooms. Objects directly behind the film at close range are still perceptible; as the distance to the film increases, the view becomes more and more diffuse. Due to their modern, simple design, they are also suitable as window decorations.
Privacy films are available as self-adhesive films and adhesive films without adhesive, which adhere to the pane purely by static attraction. Both variants are easy to apply, even for the inexperienced.
Browse all privacy films
Popular and opaque: window films for bathrooms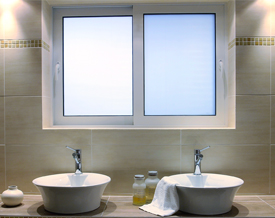 Especially in the bathroom, maximum privacy is often desired, because no one feels comfortable if views from outside are possible and the private sphere is disturbed. On the other hand, the bathroom must not be darkened too much, because the desire for as much light as possible is just as great as the desire to maintain privacy.
We have developed our opaque window film for bathrooms precisely for this application. It convinces with a very high level of privacy protection at the window by day and by night and is still translucent at the same time.
A fresh touch with film in the bathroom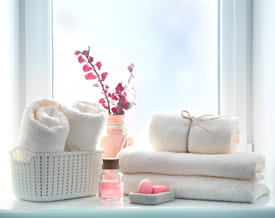 For all glass panes where the aesthetic appearance is more important, we recommend our adhesive-free window films or decorative films. They are easy to apply and convince with tasteful designs that complete every bathroom. Thanks to their high adhesive strength, they also adhere easily to window panes in damp rooms.
Privacy films for bathrooms
Window film as decoration for glass surfaces

If translucent privacy film seems too plain, you will find window film with a motif among the decorative films or adhesive films. The different designs loosen up the appearance and radiate more individuality in window decoration. The more open the design, the less privacy it provides.
Not only for glass, but also on other smooth surfaces and furniture, films are a chance to transform your own four walls. Furniture foils give old furnishings a new look in no time at all. Entire kitchens can be refurbished according to the motto "turn old into new". There is a suitable furniture foil counterpart for all common surfaces such as wood or stone.
Decorate your windows
No limits to the possibilities
Creative freedom is offered by decorative films: picture-perfect privacy screens, for example, as window pictures that are ideal for window decoration. Here, in addition to the stylish frosted glass look, a matching window privacy screen is also realised. Or in the form of textiles that can be ironed on. Transferring your own logo onto a T-shirt is child's play. Coloured films
for smooth surfaces can be used to create signage or lettering that is frequently used on shop windows or cars.
How to apply window film explained in a video
The installation video shows how easy it is to install a film. These installation tips should be followed without fail:
Clean the window pane meticulously
Work with a lot of liquid, this makes it easier to align the film
Two people should apply window film with an area of more than 1m².
Thoroughly wipe out the liquid after application
Once installed, window films last for many years and can be removed without leaving any residue and without damaging the glass, even after a long time.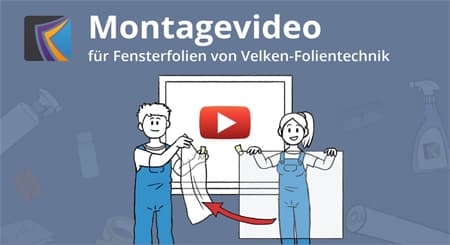 Window film protection against glass breakage, vandalism and radiation
Whether private or commercial, protective films can increase the security of windows and provide preventive protection against uninvited situations.
Window glass is effectively protected against break-in, glass breakage or vandalism. In addition, UV and infrared protection films provide the necessary protection against radiation.
Although the furniture films, for example, can also be cut to size by hand, we customise all adhesive films from our film market according to your desired dimensions. This means that you will receive an exact cut of, for example, your frosted glass film as window protection.
Protective films for windows
FAQ about window films
What are the benefits of a window film?
Whether missing sun protection or privacy protection: For almost every problem that you have with your window, there is a suitable window film that presents an inexpensive, visually inconspicuous and, if necessary, easily removable retrofit solution.
No matter for what purpose you are looking for a window film, we have the right solution!
What does a window film cost?
With us, you get every window film made to measure to the millimetre. Therefore, you never pay for excess material that you cannot use.
To determine the cost of your window film, please enter your required dimensions on the article page of your desired film. The shop will calculate the price directly according to your size.
How do I apply window film?
There are self-adhesive window films that stick firmly to the window pane due to the film adhesive applied to the back. Once wet-mounted, they last a very long time and can only be removed once without leaving any residue.

Watch the installation video for self-adhesive window films "
There are also self-adhesive window films. They adhere to the window glass purely by static attraction and can be removed and reapplied at any time.
How to remove window film?
To remove a window film without leaving any residue and without damaging the glass, it is gripped at one corner and then slowly pulled off at a flat angle. In the case of adhesive films, the film can be warmed up with a hair dryer beforehand to dissolve the film adhesive. Any adhesive residue after removing the window film can be easily removed with our adhesive residue remover.
How long do window films last?
Depending on the type of film, the installation side and the installation position, window films last for many years. Durabilities between 10 and 15 years are realistic. Please contact our customer service for a more precise estimate of durability. We will be happy to assess your situation.
Difference between self-adhesive and self-adhesive films?
A self-adhesive window film has an adhesive back, similar to a self-adhesive stamp or sticker. With the help of the wafer-thin, transparent adhesive, the film sticks to the window pane after installation.
The self-adhesive film is adhesive-free and only adheres firmly to the window glass with its electrostatic back. The adhesive force is so great that it can even be used in damp rooms without any problems.
How do I care for my window film?
Recommended:
Do not clean the film during the first three weeks after application.
Commercially available glass cleaning agents can be used.
Clean the windows with soft cloths or a chamois leather.
Make sure that squeegees and all other cleaning utensils are clean.
Please clean film edges carefully.
Therefore, clean an externally installed film at short intervals so that the hard dirt particles cannot settle too firmly on the film surface.
In the case of externally laid films, coarse dust and dirt should be removed from the film with a very wet, soft chamois leather and sufficient clean water.
Cleaning:
Spray the window surface with the water - cleaner mixture.
Wipe off water with a rubber wiper from top to bottom.
Soak heavily soiled areas again and clean with soft chamois leather or sponge and plenty of water.
Spray the window again with a water-cleaner mixture and wipe off with a squeegee from top to bottom.
Not recommended:
Do not use abrasive cleaning agents
Never clean the panes dry.
Do not use glass scrapers, razor blades or Scotch.
Do not clean with high-pressure cleaners or steam cleaners.
In general, the application of advertising stickers to the film coating is not recommended.
Always remember: The surface coating of the film is scratch-resistant, but not indestructible.
Who applies window films?
In 99% of cases, you can easily install the window films yourself. Detailed installation instructions are included with your delivery. If you do not have time for the installation yourself, the installation location is inaccessible or the project is too large, local glaziers will be happy to carry out the installation for you.
Where can you buy window films?
You can't get quality window films on marketplaces or locally in discounters / DIY stores. Especially custom-made high-quality window films with a guarantee can only be found at specialist dealers like Velken, who have many years of experience and specialise in the product.
Further questions? We are happy to help!
Customer service
Our competent and expert customer service will be happy to help you with any uncertainties you may have. From the initial consultation to the ordering process to the installation at your site - we will help you!